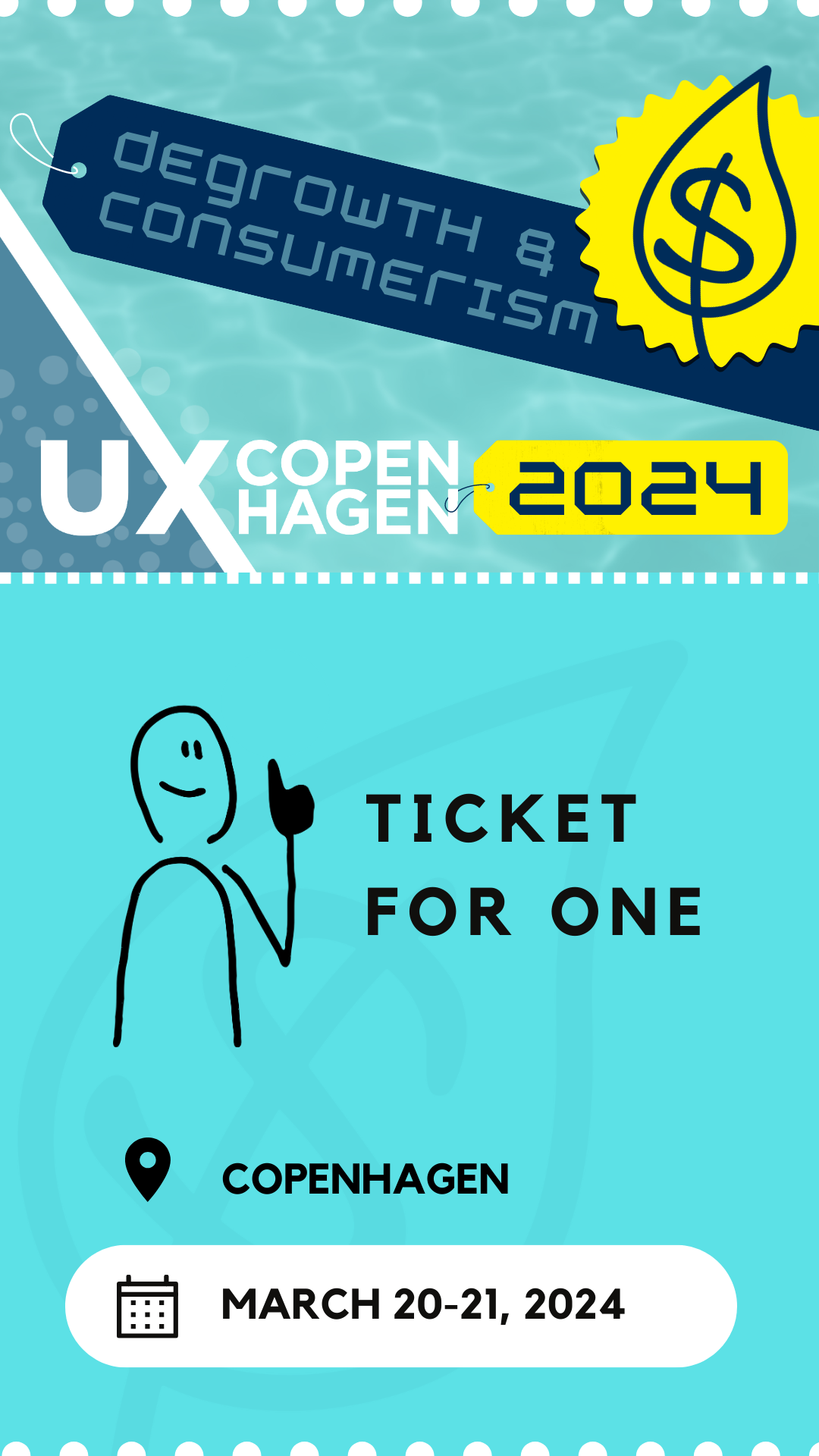 On-site, live event ticket
(Early bird price)
DKK 6,500
Join us live* in Copenhagen! This ticket includes: 
Live and online talks, workshops, panel discussions, and Round Table sessions (Mar 20-21) 
Access to the Speakers' Dinner on day 1, March 20
A fun pre-conference event (1-2 hours, late afternoon) on March 19
Full access to the live-stream for 3 months after the event
Food and drinks during the conference (Mar 20-21)
Merchandise and conference goodies
Reg. price: 7,500 DKK. Prices are ex. VAT. 
*restrictions apply
BUY ON-SITE TICKETS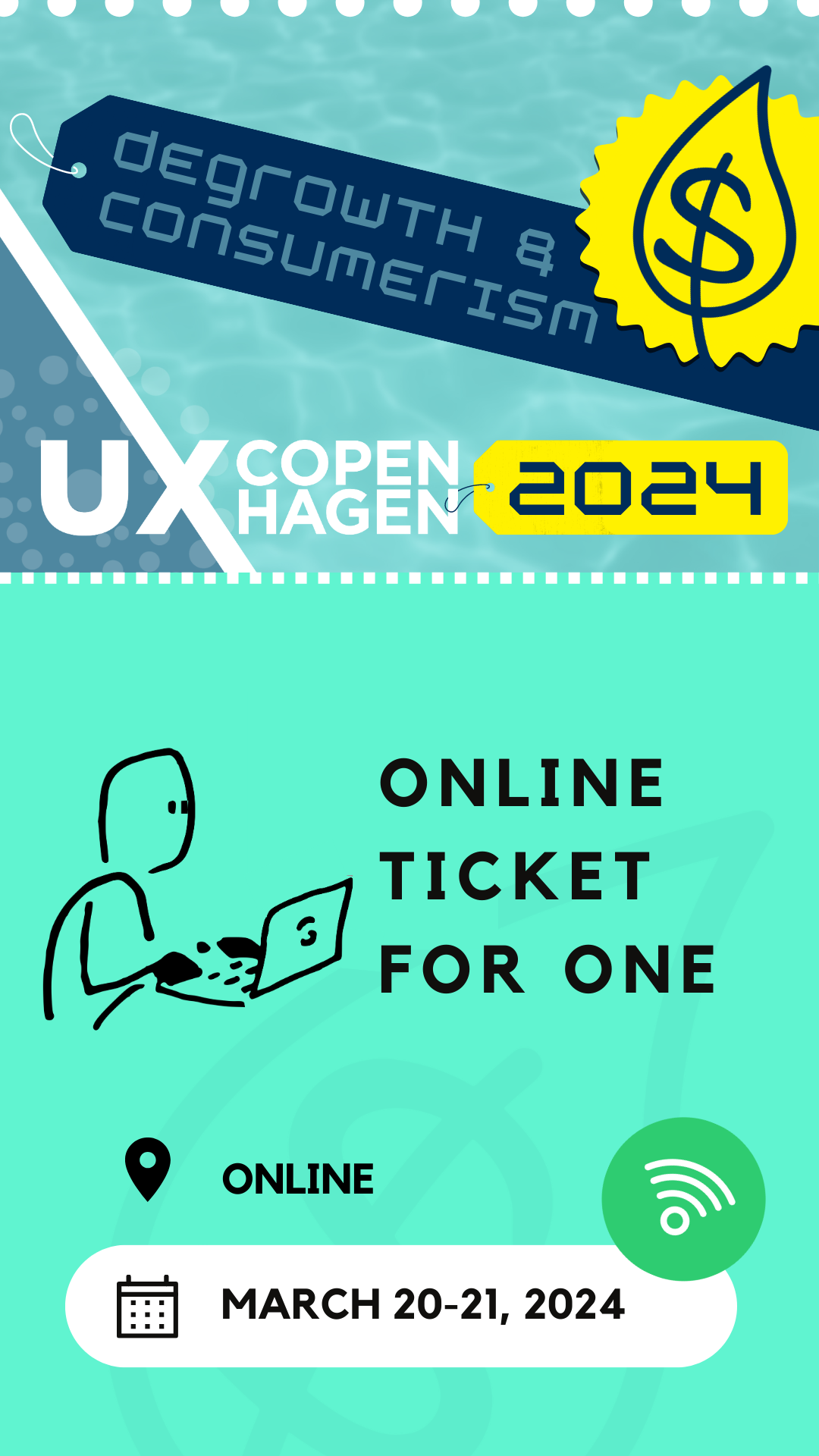 Live-stream ticket
(Early bird price)
DKK 3,000
Watch the full live-stream footage of both days of UX Copenhagen, including the  talks, Q&A sessions, and at least one online workshop per day.
This ticket allows you to jump in and out of the live-stream as you please, interact with others on Slack and our other social media platforms, and to access all of the recordings 60 hours after the event starts.
Please note that these tickets are not refundable.
Reg. price: 4,000 DKK. Prices are ex. VAT. 
BUY ON-SITE TICKETS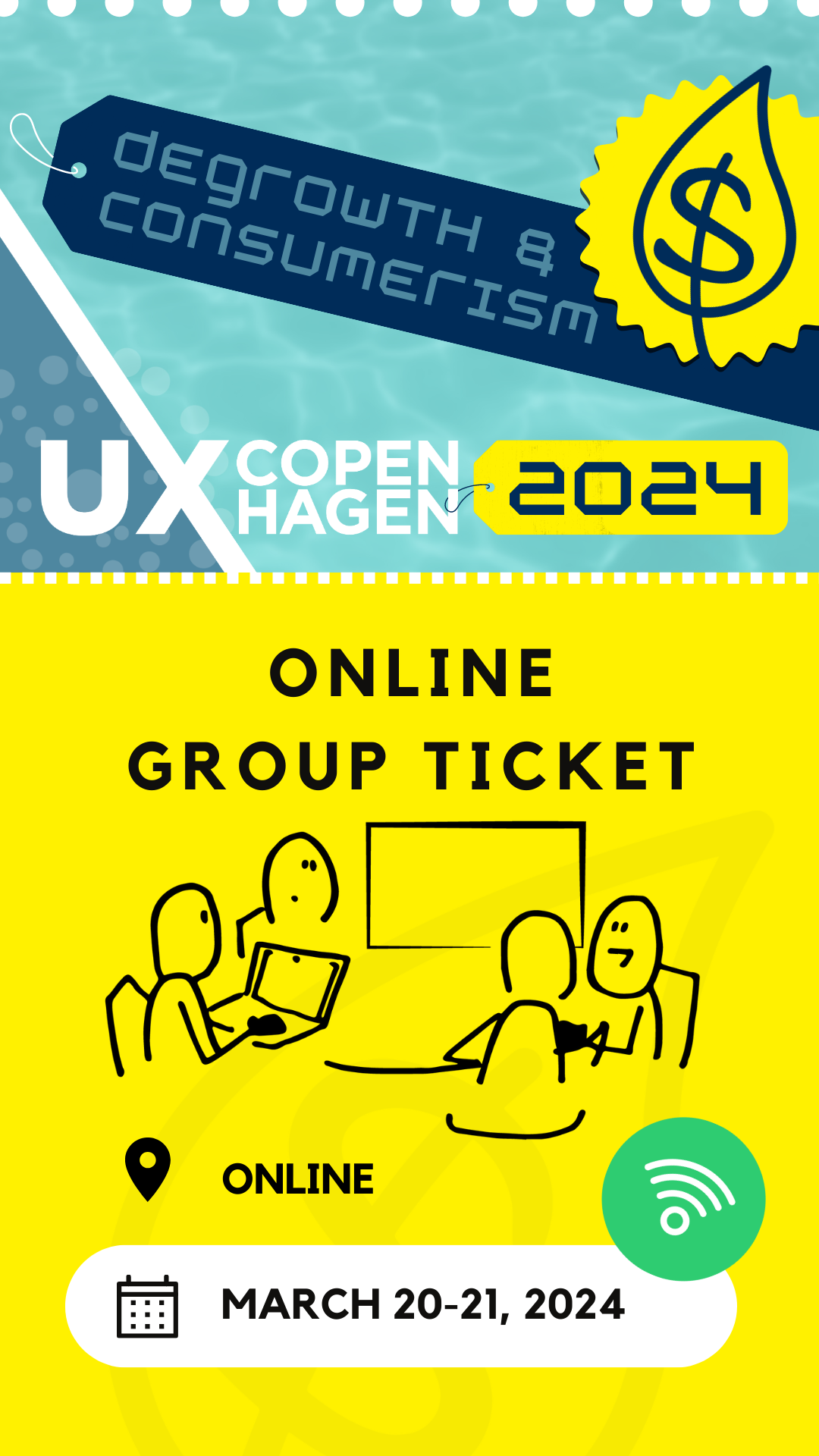 Group tickets
Please contact us for more information about group discounts! 
CONTACT US
2024 Speakers
To be announced!
call for speakers 2024
Our call for speakers is open each year from June 1 – Sep 1. Please send an email to conference curator Helle Martens with your proposal:
hello (at) uxcopenhagen.com.
What is UX COpenhagen?
UX Copenhagen® is Denmark's most inspirational human experience conference!
The theme for UX Copenhagen® 2024 is "Degrowth & Consumerism"
For far too long, we have been living in a world that applauds and encourages continuous growth, expansion, selling, and manipulation. It's a world of over production and over consumption, but we're running out of resources. Business as usual will not cut it anymore.
As last year's closing keynote, Angelos Arnis put it "There is no planet B."
On March 20-21, 2024, we'll be discussing climate change, consumerism, and waste. We'll talk about degrowth, and about unlearning decades of harmful production, development and processes. We'll have talks about how consumerism will need to change in order for the planet to survive. We'll show some practical examples of work we have already done, and open the discussion about what we as designers can do to make sustainable changes for the better and create fundamental, systemic change. 
UX Copenhagen connects people from all over the world for essential conversations. Our speakers are a wonderful mix of professionals, ranging from juniors new to the field to big names in the field. Each year, we have around 200 participants, 75% of whom are international guests. It will be held entirely in English. Attendees are UX professionals, digital leaders, digital strategists, and marketing professionals from all parts of the world – and those who work with and around them. 
The 2024 event will be the 10th consecutive UX Copenhagen conference. The conference respects principles like having a diverse range of speakers, and presenting as many different points of view as possible on stage. We support charities, new startups, and initiatives that promote UX and doing good. 
The conference will be a hybrid event – in-person and online. We will be hosting hands-on, live workshops; and live Q&A sessions with each of this year's speakers. There will be raffles, book sales, and lots of opportunity to network.
2024 Sponsors
UX Copenhagen® is supported by companies from all over the world. Are you interested in sponsoring us? Please reach out to
hello (at) uxcopenhagen.com between April 1 – September 1.
The revenue for UX Copenhagen is solely based on ticket sales and (very few) company sponsorships. Each contribution means that we can keep moving forward with the conference, so we're deeply grateful for our sponsors!